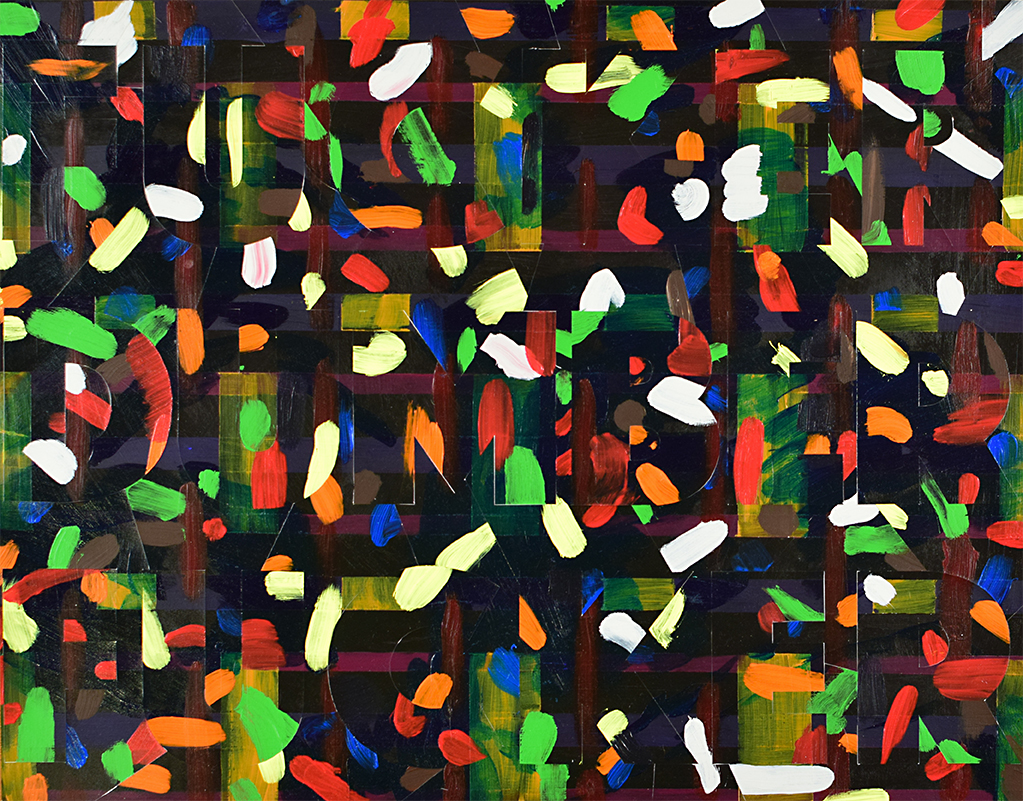 ER, ER, ER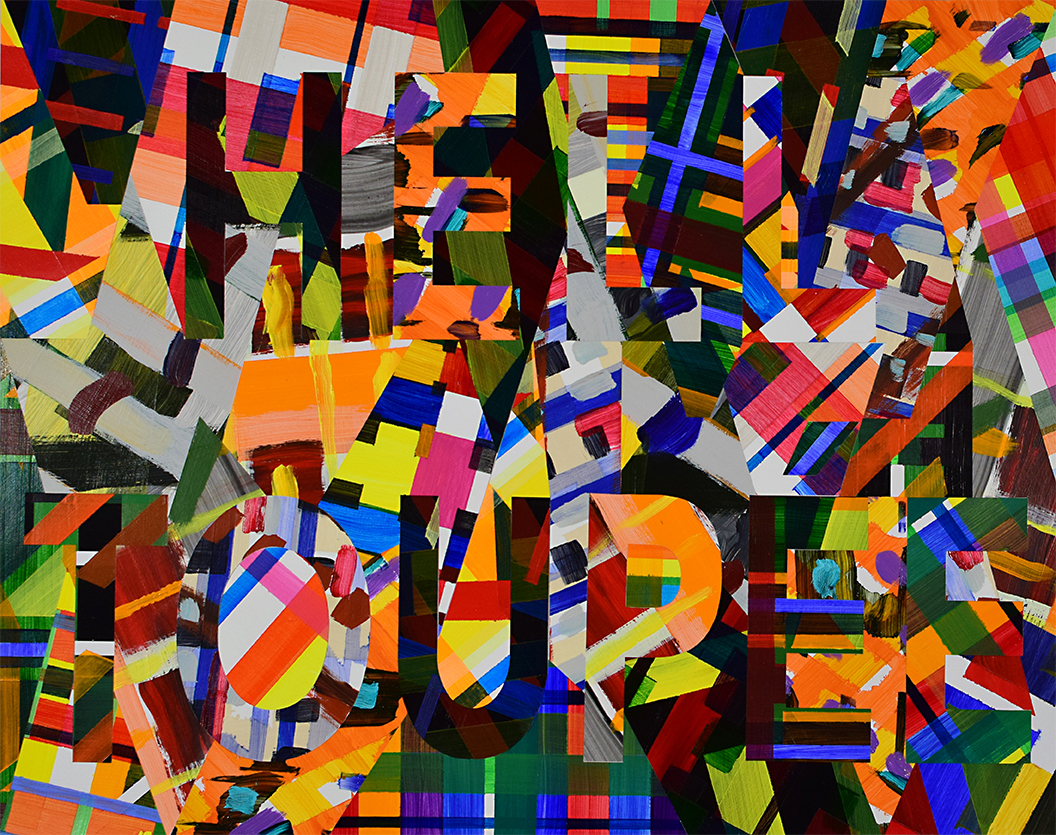 HELL TOUPÉE
2015, Acrylic on paper, 19 x 24"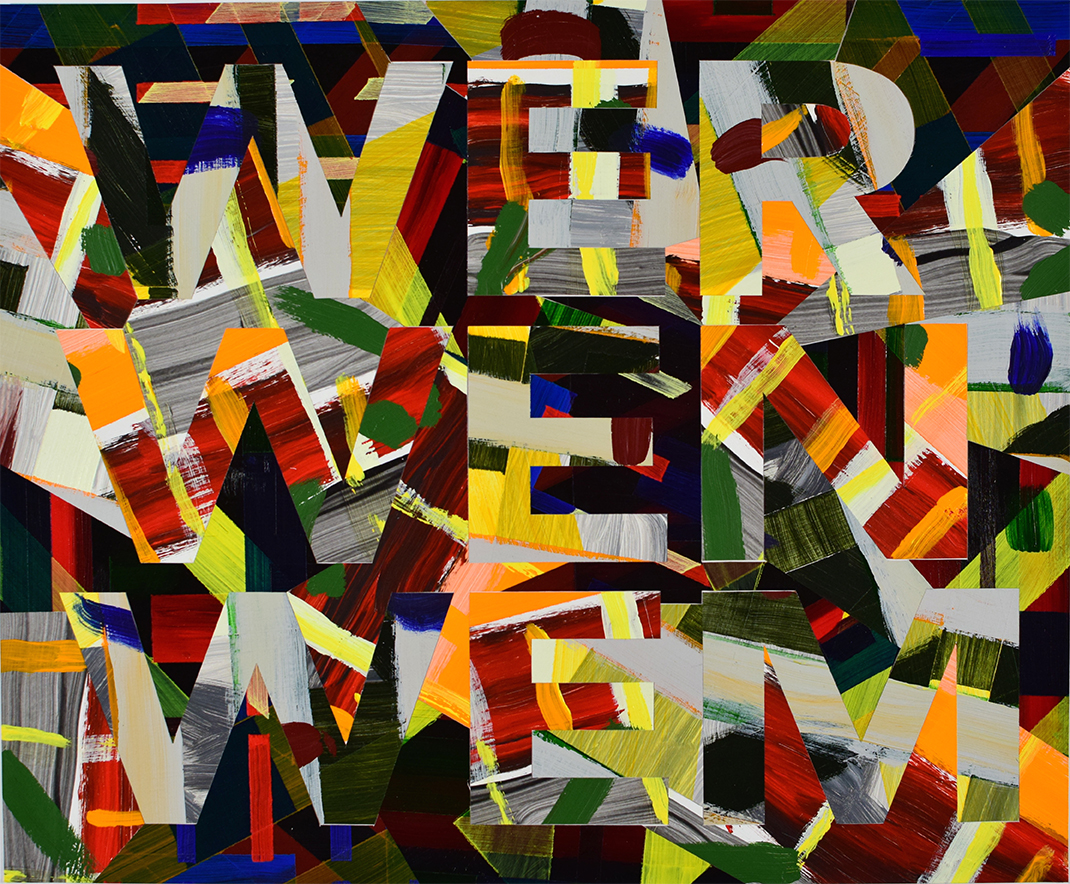 WER WEN WEM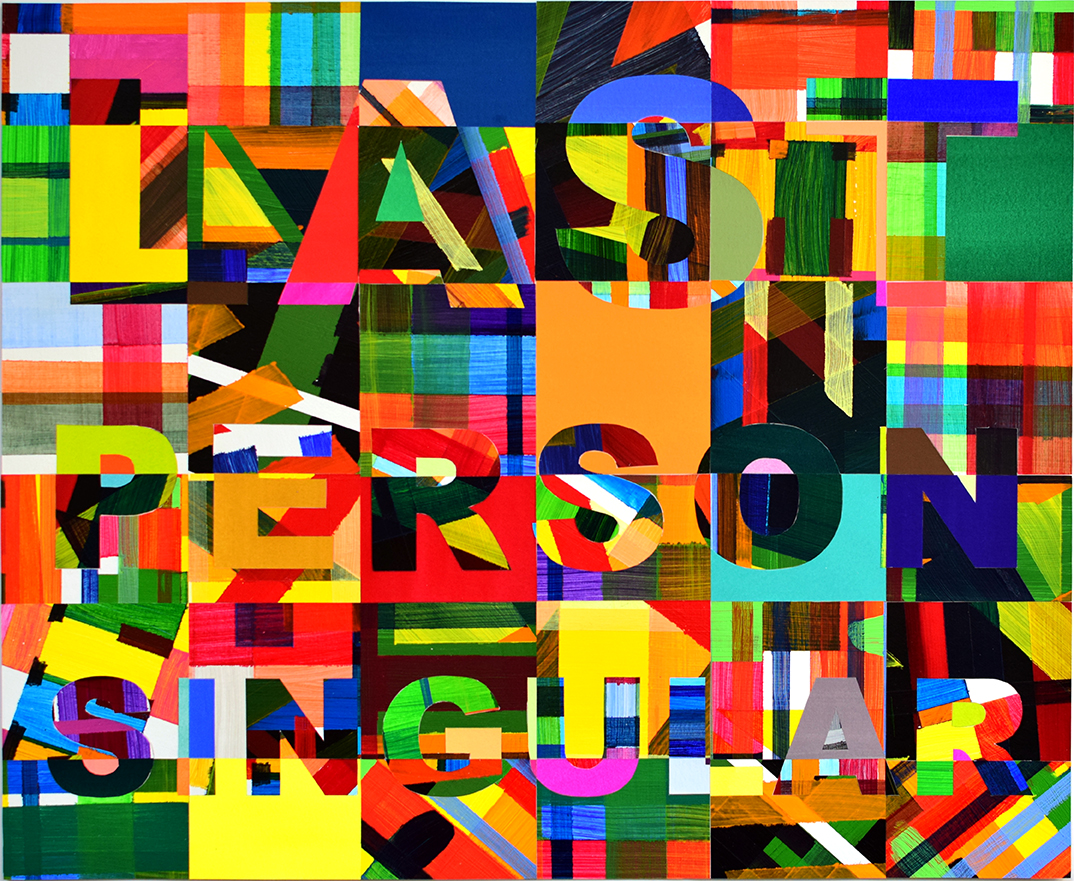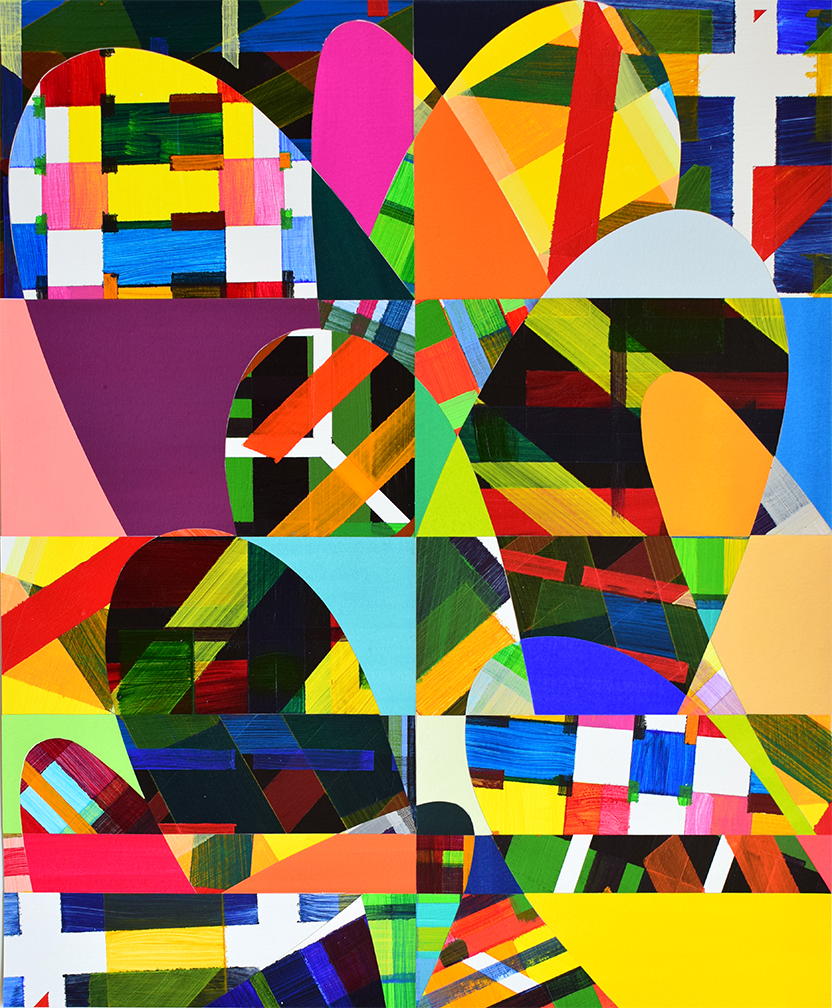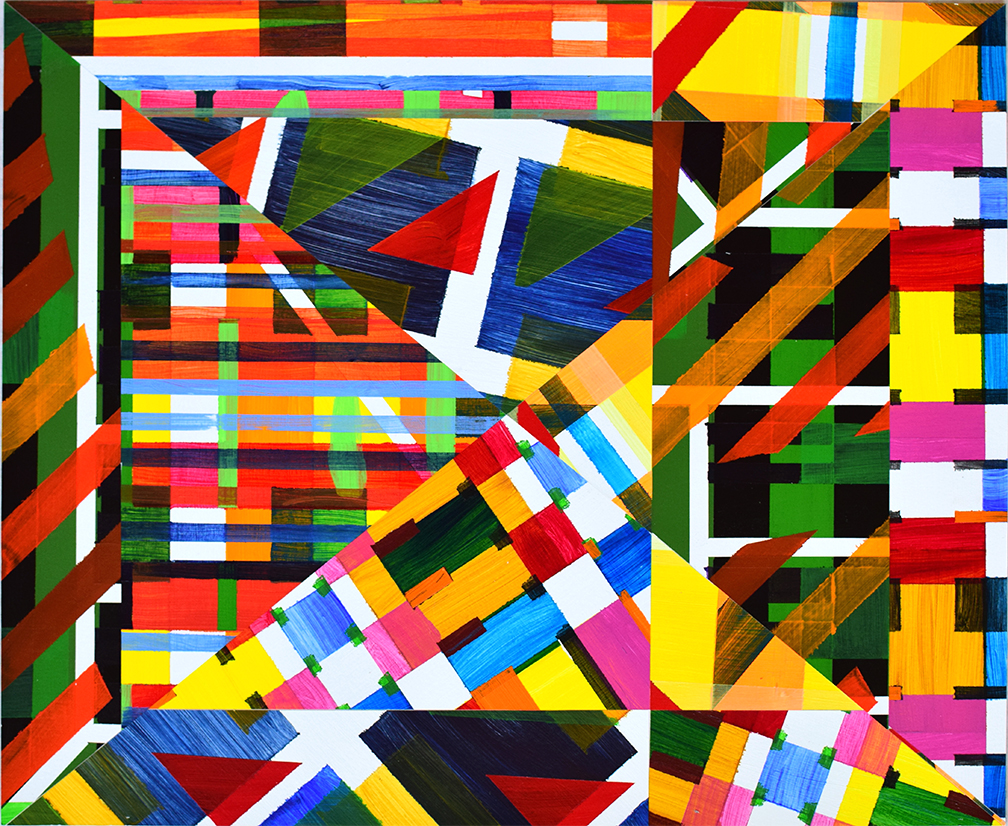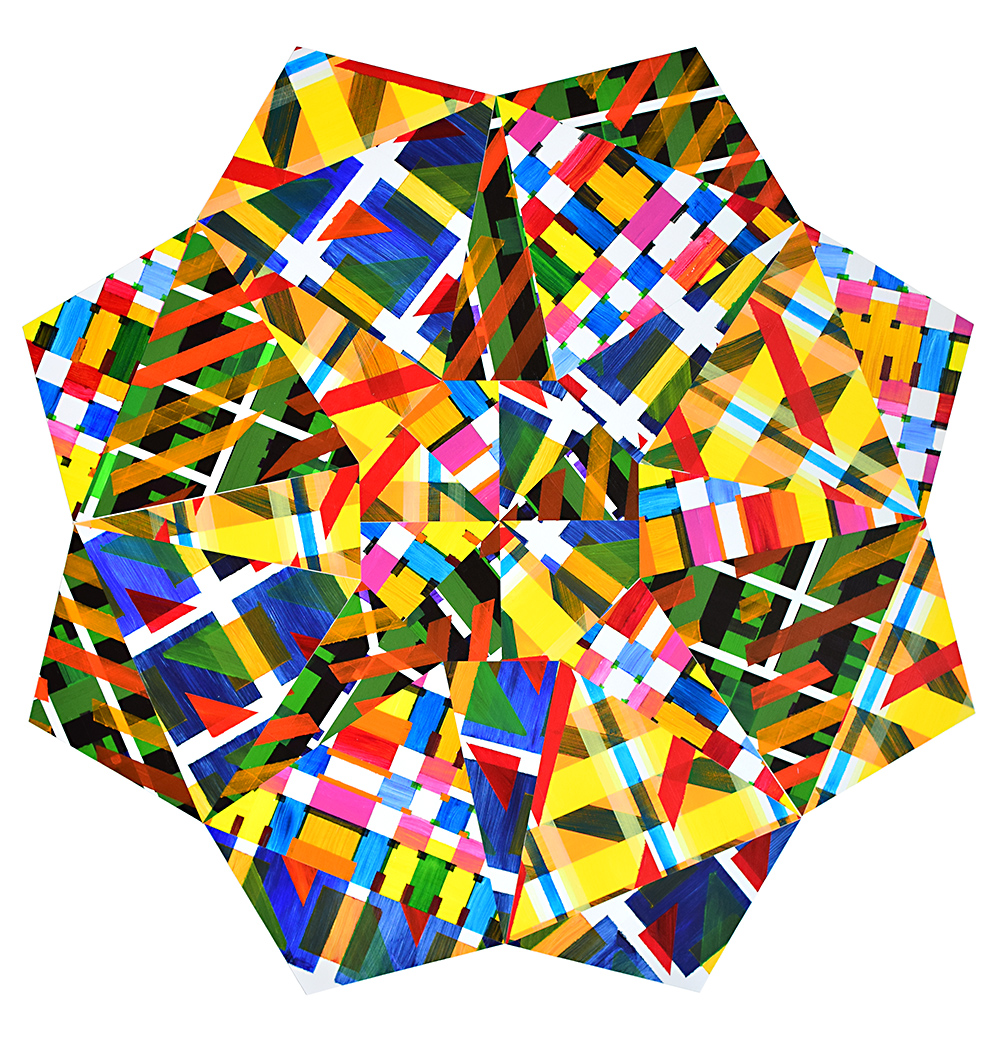 Spam Stalkings
Dear!
Having trouble viewing this email? This letter is the first step to get to know you and I need to be very honest.
I DID NOT WIN THE GUBERNATORIAL ELECTION BUT I WAS RICHLY COMPENSATED BY THE WINNER HAVING BEEN PAID IN FULL ALL I SPENT FOR THAT CAMPAIGN I DECIDED TO INVEST IT ELSE WHERE OVER SEAS IN PARTNERSHIP WITH A TRUSTED PERSON LIKE YOU. Did you know about this? Not sure if you got my voice mail, but I would like to meet for lunch 1pm at the Oyster Bar in GCS. Eye drops replace glasses - I can see perfect now. To learn more information about this… hurry, click here. No Caller ID - VM - Beethoven - CLICK. If you don't, did you know this organism may even lead to cancer? Not likely, not probable, not even close to realistic.
Introducing… MyShedPlan. The Ultimate Collection of 12,000 Shed Plans! Early morning dream of you. Are you snoring yourself to death? I don't want a situation where this money will be used in an ungodly way. You looked relaxed and safe and very lovely and I woke up...happy. So if you snooze you lose. And then you can smash your glasses to hell. Don't be surprised when FEMA knocks on your door and demands all the food from you... I would like you to unblock my phone number. I recently moved in town that's why I have a different number. You need the money more than the timeshare.
Turns out I was about 50percent right, which unfortunately also means I was about 50percent wrong... Would you sit down and knowingly eat FOUR slices of bread? My fat sister looks better than you. Didn't mean to bring up images of a Freddy Krueger movie. Lost in a sea of food storage containers? It's insane! It's real, it's not like anything you'd expect. I never heard back from you and I wanted to make sure we get you qualified for funding if you need it. I will wait for you at the entrance. I am hopeless dreamer and I live by heart, I like to be myself and I can adjust to any situation. We really appreciate you taking time out of your day to say hi to these wonderful ladies!
So what has it been? Six months? You might get bit pissed off, maybe even swear a little, when you see the list of fruits and vegetables that you thought were healthy. If you want we cant text, here's my number let's chat. No Caller ID - VM - car noise - CLICK. I have been expecting to read from you, does it mean that you did not get my first mail to you? You probably already have this "information", but I am sending the link, just in case. Privatization allows the consumer a choice when registering. I have survived 6 suicide bomb attacks by the special grace of God. Disregard, please, and I am sorry for any confusion... I'd like to call you tomorrow, mid-morning.
2 Million bulk emails only for $399
10 Million bulk emails only for $999
If you don't want to receive emails any more, please unsubscribe.
2015, 33" x 33", acrylic on paper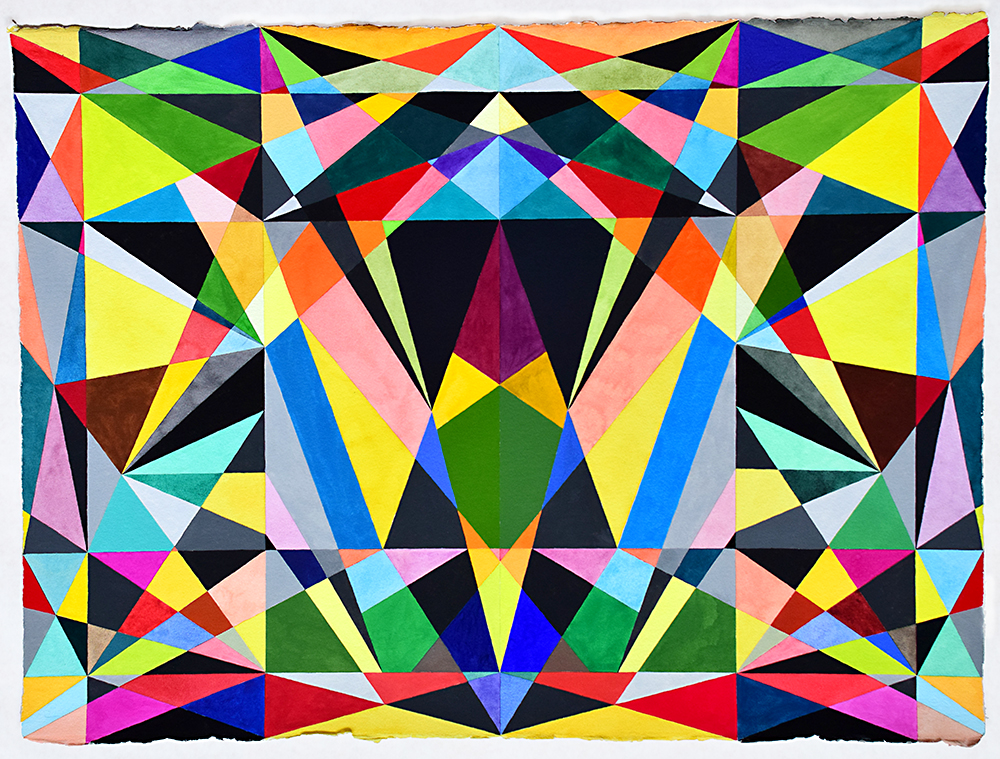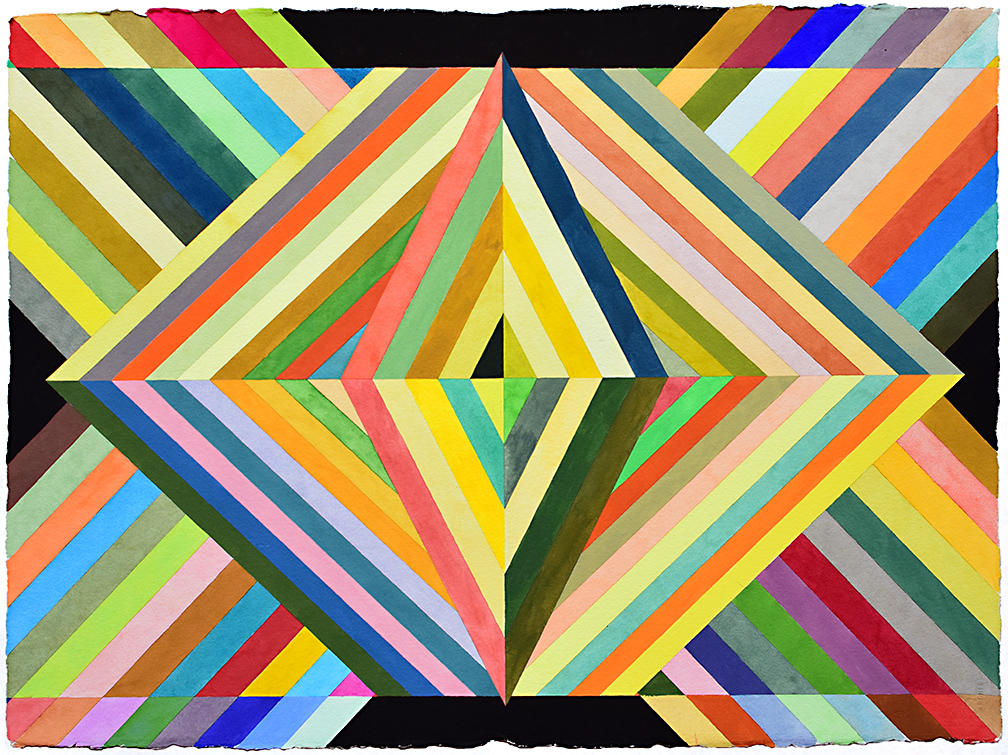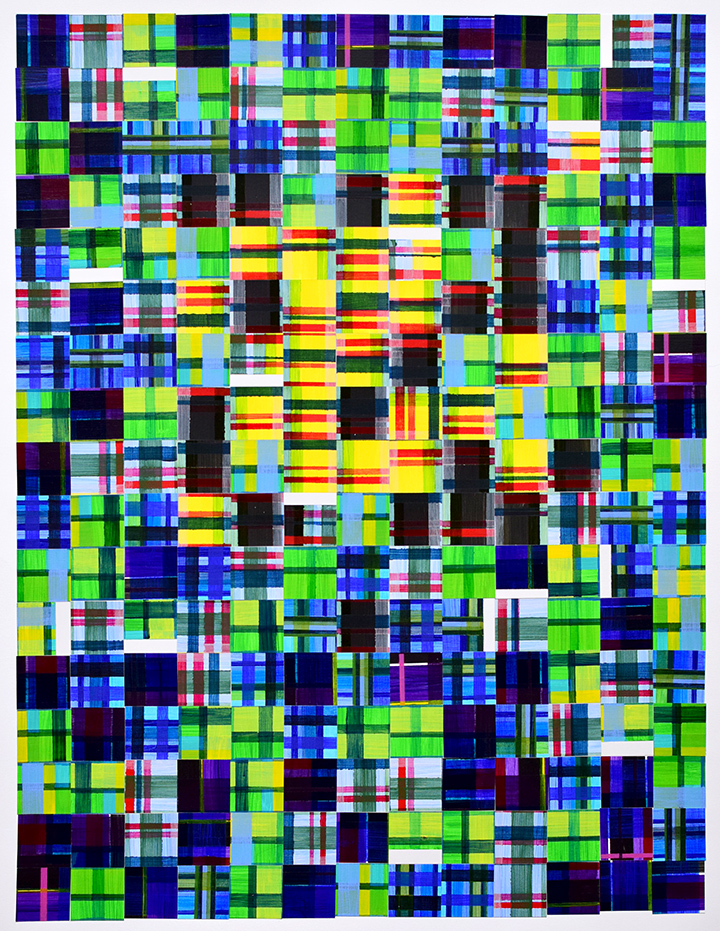 Can't Tell
Can it be a memoir if I have poor memory? Or if it's written entirely too early, and I'm half-dead on the vine? What if I break first person, to write about "The Subject"? Perhaps no one will care about the subject or The Subject. Really, what is there to say?
What if there were no redemptive, affirming, uplifting, or inspiring content? And if any turned up, if I weeded it gone? If The Subject dragged through, fucked up, dicked over, suffered shame, and sunk heavier as the thing rolled along. Is that a memoir?
And if fantastic events occurred for The Subject - if she got a standard poodle and together they opened a pest exterminating business that operated on college campuses and scheduled using Twitter, but pesticide exposure killed the dog and she developed Multiple Chemical Sensitivity (MCS), what then? And then if she became a bar back at Tracks Raw Bar and Grill in Penn Station for cash to breed standard poodles as a self-perpetuating monument to the fallen dog, but the cleaning fluids used backing the bar caused her MCS to flare up, which then littered her shifts with seizures, asthma, and dermatitis, naturally alarming staff and customers alike, resulting in her firing from Tracks, that's probably starting to cast away from memoir, no?
I can't tell, or remember.
2015, 34" x 26", acrylic on paper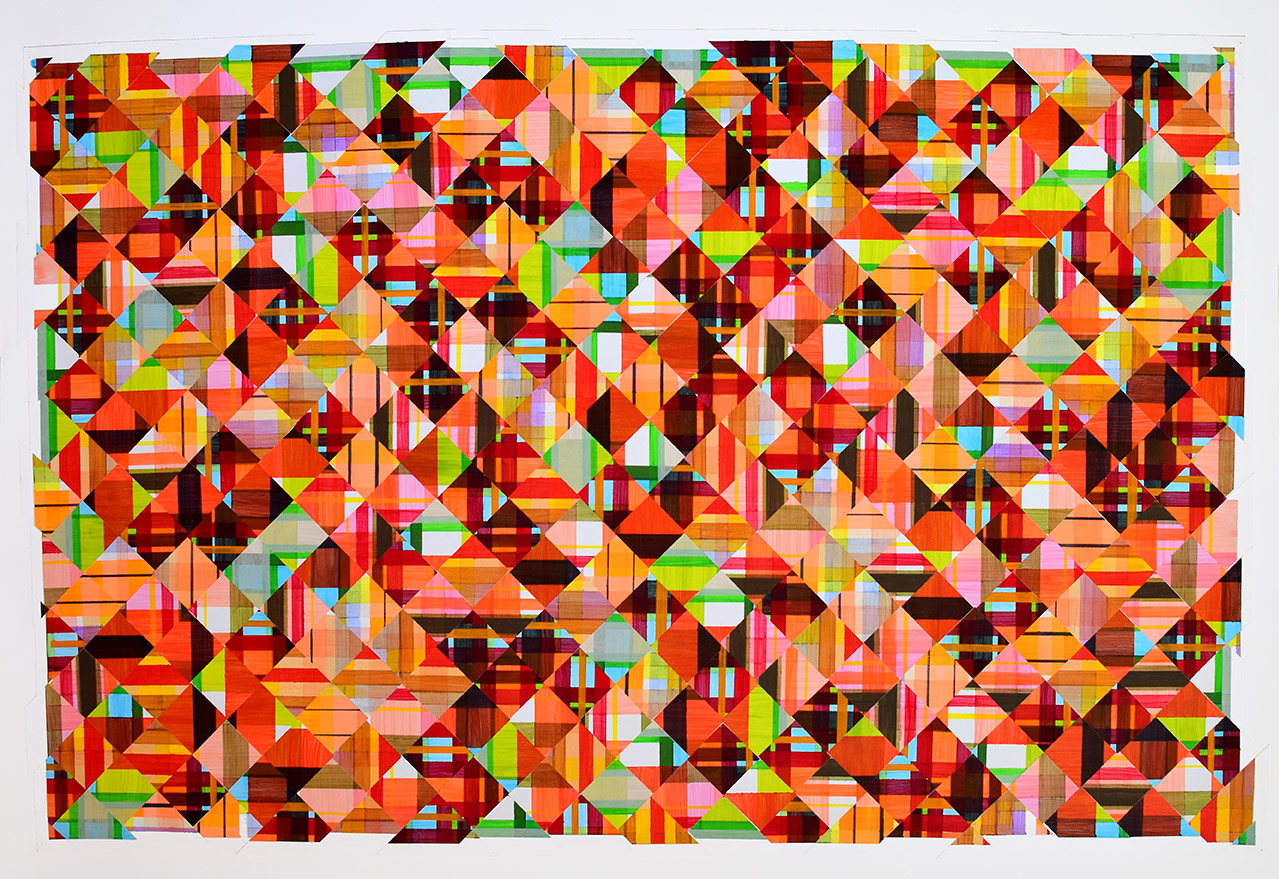 To Be In The Know
As a young couple, a pervasive stink slunk throughout their everyday. Youth squalor so malodorous had no political pretense for them, theirs was simply negligent. They battled desensitization and sloth to identify the sources: flowers in water for days or weeks on end. Clothes worn out dancing repeatedly; aired, sprayed with Chanel Cristalle, and declared fresh. An embarrassment of condoms in a trash can. An Appenzeller rind allowed to slip into the sink drain. Three high fevers suffered under a bare down comforter. Buttes of cigarette butts that rose from tables to encircle dusty computer monitors and empty alcohol bottles. Months of filth and accumulation, baked and frozen in the car. Failure to clean winter coats, ever. Tumbleweed tossed in the rental car, once: that had smelled. She refused deodorant. Their bodies each processed up to/beyond 15 drinks daily, and the cat's litterbox figured in somehow.
Sleuthing together sharpened their senses and standards, resulting in neater living. It was a slow process. They bought potted orchids, becoming skilled at their care. They stopped dancing in clubs. She was fitted with an IUD. A plain of counter space and a dishwasher emboldened forays into Limburger and Epoisses without worrying about scraps- they'd be quickly discovered. Boom: a duvet cover. Everyone had stopped smoking, except the Greeks, off thousands of kilometers from Germany. The couple's new S550 had to be cleaned weekly; sitting in a vortex of garbage while driving 240kmph would feel wasted, likely. Winter coats were now dry cleaned upon first notice of substantial dirt. They hadn't yet re-tested a rental against a tumbleweed, though tumbleweed essence (or clary sage oil?) lead the natural deodorant she had agreed to wear. Forced to stop drinking entirely, they found many hours freed to clean the litterbox.
He was certain of this: their new ways evinced a movement.
2015, 32" x 49", acrylic on paper
A Call in Early May
Pussy willow switches snapping open, sneezing out bloomy yellow pollen. Pollen falling on faded sun-spider blossoms dropped from witch hazel canes, which, with a few bare forsythia branches, were sitting interspersed among the pussy willow in a vase. Cruciform forsythia flowers, now collapsed and mote-light, the witch hazel crab-blossoms, and the pollen dust, radiating a wilted doily of neglect outward across the maple tabletop.
Water was gone from the vase. Moving air threatening to destroy the illusion of order and beauty. Still air is suffocating.
2015, 36 x 26", acrylic on paper
Eeceit
A rung below Deceit.
2014, 48" diam, colored pencil on paper
2013, 37" diameter, colored pencil on paper
2013, 30 x 22", gouache on paper
2013, 50 x 38", gouache and acrylic on paper
2013, 50 x 38", gouache on paper
2014, 13.5" diameter, watercolor and gouache on paper
2014, 12 x 16", watercolor and gouache on paper
2014, 12 x 16", watercolor on paper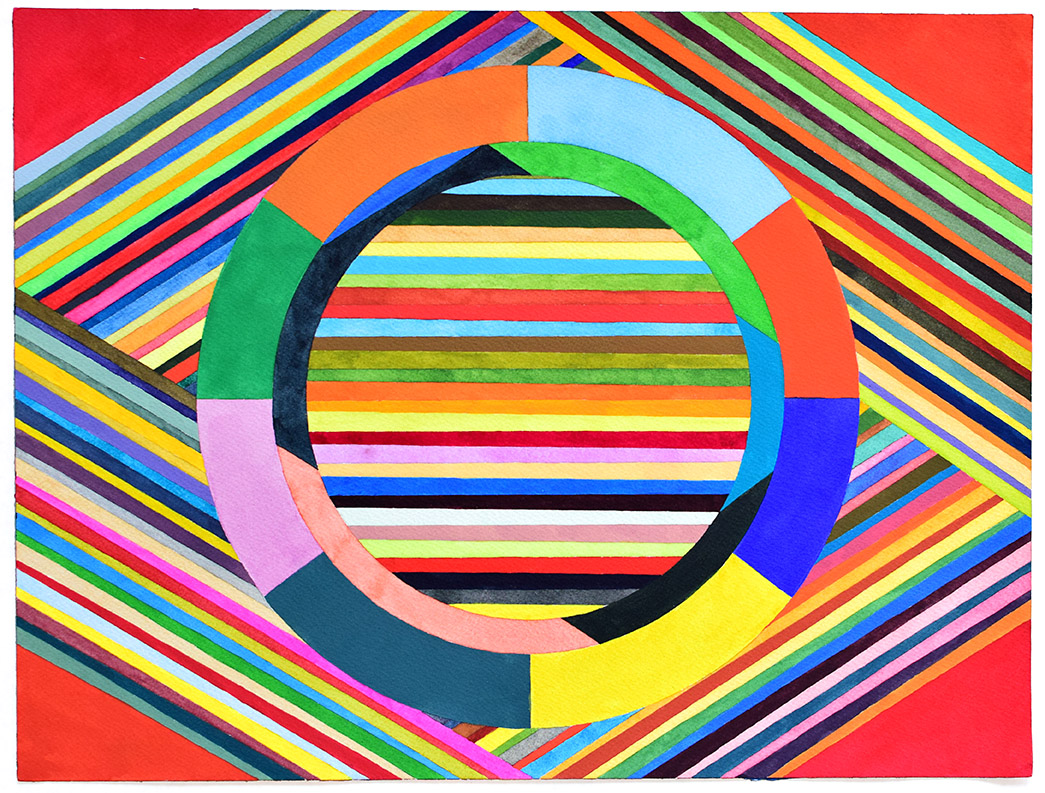 2014, 12 x 16", watercolor and gouache on paper
Aktuell